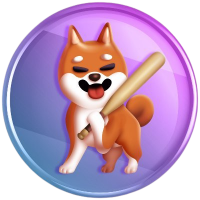 What is SHIBONK ?
SHIBONK plans to bring value and recognition to the often overlooked but highly influential world of internet memes.
Memes have a long history of shaping popular culture and how we communicate online, but they have often been treated as lowbrow or ephemeral.
SHIBONK aims to change this by creating a token that recognizes and rewards the creators and curators of high-quality memes and by building a vibrant and engaged community of meme enthusiasts.
By doing so, we hope to celebrate and elevate the art form of the meme and bring greater recognition and value to the world of internet memes.
Token Info :
Watchlists
Marketcap
$

832,83400000000

0.2%

USD Price
$

4.98

13.1%

Launch Date
Jan 7, 2023
(3 weeks ago)
Date Added
Jan 9, 2023
(3 weeks ago)
---
Disclaimer: CoinBazooka does not endorse SHIBONK. Please Do Your Own Research (DYOR) before investing in any project.
Information incorrect? Please report it to [email protected]
Promoted Coins
#
Coin
Coin
Audit
Chain
Symbol
Market Cap
Price
Since Last Peak
Launch
Votes
Vote

BSC

EXOS
$-
$0.01800062

5.9%

May 5, 2022
12052

BSC

PINU
$-
$-
-
Apr 28, 2022
11323

ETH

MAGA
$-
$0.00008542

24.9%

Sep 23, 2022
4009

SHIBONK

SHIBONK

$SBONK

SOL

SBONK
$832,834
$4.98

13.1%

Jan 7, 2023
1596

BSC

ROTTO
$-
$0.000011

100%

Dec 29, 2023
206