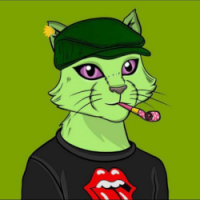 What is Defi Cat Token ?
Defi Cat Token is not your typical run of the mill meme token project. It is a project that focuses on the real-world use case of passive income and community development. Our main focus is to provide a safe, reliable home for investors to create a generational wealth income flow passively. We have a solid vision for the future and will involve the community through every step of the journey. Working together collectively we know that we will enjoy the journey to the moon! Many coins you see do not have big goals and the developers are there to make a quick buck with little respect for your time and investments. Do not fall for this trap! Invest in a coin that has true goals, a transparent team and locked liquidity. Our team of business minded developers, with many years of experience, will ensure the $DEFI project is here for the long haul. Our plan will show a clear understanding that the most important piece to this puzzle is you, the invester. Every project hopes to attract solid investors without focusing on the true safety and security of your investment. We plan to change that and prove that daily!
Defi Cat Token ($DFT) Price Today :
Watchlists
Marketcap
$

39,66900000000

100%

USD Price
$

.39669

100%

Launch Date
Jan 16, 2023
(8 months ago)
Date Added
Jan 16, 2023
(8 months ago)
---
Disclaimer: CoinBazooka does not endorse Defi Cat Token. Please Do Your Own Research (DYOR) before investing in any project.
Information incorrect? Please report it to info@coinbazooka.com
Promoted Coins
#
Coin
Coin
Audit
Chain
Symbol
Market Cap
Price
Since Last Peak
Launch
Votes
Vote

BSC

EXOS
$-
$0.01828475

0.9%

May 5, 2022
21730

ETH

TURBO
$4,619,461
$0.00006635

5.2%

May 1, 2023
6596

Wall Street Memes

Wall Street Memes

$WSM

ETH

WSM
$-
$-
-
Aug 22, 2023
3695

yPredict

yPredict

$YPRED

MATIC

YPRED
$-
$-
-
Sep 20, 2023
2124

Meme Kombat

Meme Kombat

$MK

ETH

MK
$-
$-
-
Nov 30, 2023
144

Bitcoin BSC

Bitcoin BSC

$BTCBSC

BSC

BTCBSC
$-
$-
-
Dec 4, 2023
142