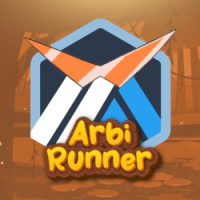 Note: This project is in presale phase. Becareful when investing into presale. always Do Your Own Research
What is ARBIRUN ?
IN ADDITION TO THE ARBI RUNNER COIN, WE HAVE PREPARED UNIQUE NFT CARDS THAT WE CAN PURCHASE ON THE MOST POPULAR OPENSEA EXCHANGE
ARBI RUNNER is a game based on collectible digital images of NFT skins, designed for active members of the ecosystem. In this game, users receive and collect digital images of skins.
ARBIRUNNER creates a full range platform with static reflection and playing to make money from games. Our game concept differs from existing play to earn games on the market.
ARBIRUNNER owners enjoy several benefits, some of which include ARBIRUN redistribution from static display, price escalation due to its ongoing marketing campaign, participation in platform games, and more.
ARBIRUN (ARBIRUN) Price Today :
Watchlists
Marketcap
$

?

0%

USD Price
$

?

0%

Launch Date
Mar 30, 2023
(8 months ago)
Date Added
Mar 25, 2023
(8 months ago)
---
Disclaimer: CoinBazooka does not endorse ARBIRUN. Please Do Your Own Research (DYOR) before investing in any project.
Information incorrect? Please report it to info@coinbazooka.com
Promoted Coins
#
Coin
Coin
Audit
Chain
Symbol
Market Cap
Price
Since Last Peak
Launch
Votes
Vote

Wall Street Memes

Wall Street Memes

$WSM

ETH

WSM
$39,145,935
$0.02166062

0.5%

Aug 22, 2023
6870

yPredict

yPredict

$YPRED

MATIC

YPRED
$-
$-
-
Sep 20, 2023
5282

Bitcoin BSC

Bitcoin BSC

$BTCBSC

BSC

BTCBSC
$-
$-
-
Dec 4, 2023
3310

Meme Kombat

Meme Kombat

$MK

ETH

MK
$-
$-
-
Nov 30, 2023
3302

Bitcoin ETF

Bitcoin ETF

$BTCETF

ETH

BTCETF
$-
$-
-
Jan 25, 2024
3176

BitcoinMineTrix

BitcoinMineTrix

$BTCMTX

ETH

BTCMTX
$-
$-
-
Sep 26, 2023
3160