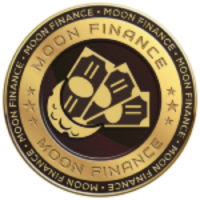 Note: This project is in presale phase. Becareful when investing into presale. always Do Your Own Research
What is Moon Finance ?
Moon Finance WORLD is a deflationary DEFI project that implements a unique tax system and utility, we are here to create a new chapter for DEFI. Read our whitepaper to learn more about our ultimate machine.
Token Info :
Watchlists
Marketcap
$

?

0%

USD Price
$

?

0%

Launch Date
Dec 31, 2022
(2 months ago)
Date Added
Jan 2, 2023
(2 months ago)
---
Disclaimer: CoinBazooka does not endorse Moon Finance. Please Do Your Own Research (DYOR) before investing in any project.
Information incorrect? Please report it to info@coinbazooka.com
Promoted Coins
#
Coin
Coin
Audit
Chain
Symbol
Market Cap
Price
Since Last Peak
Launch
Votes
Vote

BSC

EXOS
$-
$0.02412093

7.7%

May 5, 2022
12987

ETH

USACOIN
$-
$0.00006745

2.1%

Jul 26, 2022
5991

Baby Floki

Baby Floki

$BABYFLOKI

BSC

BABYFLOKI
$-
$-
-
Feb 23, 2023
3687

SHIBONK

SHIBONK

$SBONK

SOL

SBONK
$200,319
$1.27

43.6%

Jan 7, 2023
2471

ETH

CIMO
$-
$0.00001021

42.7%

Dec 13, 2022
1596

ETH

RINIA
$-
$-
-
Mar 2, 2023
222