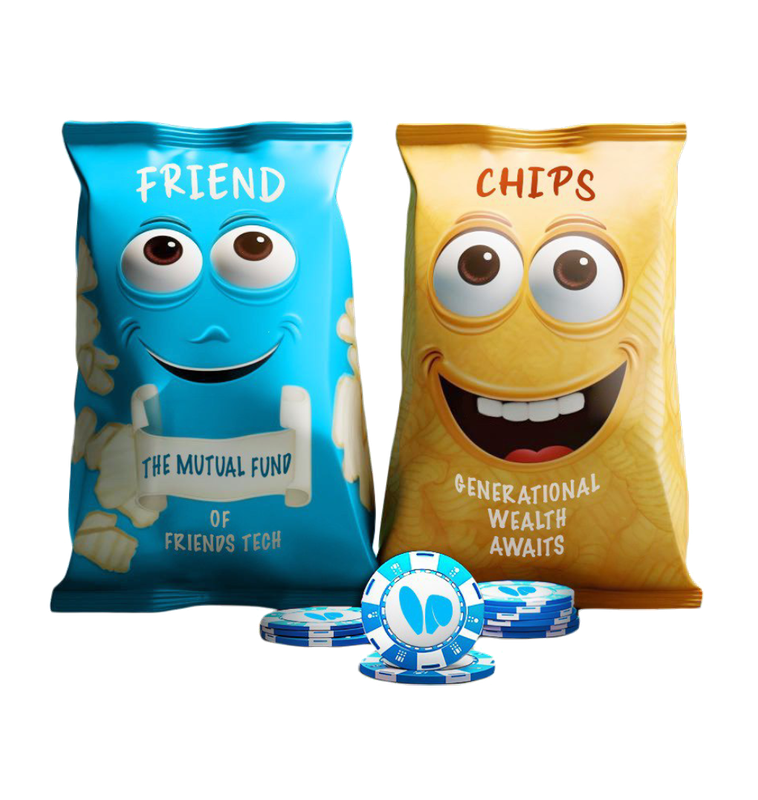 Friendchips.tech
FRIENDCHIPS
What is Friendchips.tech ?
FRIENDCHIPS - The Mutual Fund of Friend Tech Friendchips gives you exposure to the Friend Tech (SocialFi project funded by Paradigm) ecosystem and airdrop, without all the hard work. We manage the bridging and buying, all Friendchips holders share the rewards. Using tax, bonding and tokenomics to build a treasury of Friend Tech Keys for all FriendChips holders to benefit from and maximize the upcoming Friend Tech airdrop.
Friendchips.tech (FRIENDCHIPS) Price Today :
Watchlists
Marketcap
$

201,14500000000

100%

USD Price
$

?

0%

Launch Date
Sep 9, 2023
(2 months ago)
Date Added
Sep 11, 2023
(2 months ago)
---
Disclaimer: CoinBazooka does not endorse Friendchips.tech. Please Do Your Own Research (DYOR) before investing in any project.
Information incorrect? Please report it to info@coinbazooka.com
Promoted Coins
#
Coin
Coin
Audit
Chain
Symbol
Market Cap
Price
Since Last Peak
Launch
Votes
Vote

Wall Street Memes

Wall Street Memes

$WSM

ETH

WSM
$42,894,317
$0.02358014

5.8%

Aug 22, 2023
7153

yPredict

yPredict

$YPRED

MATIC

YPRED
$-
$-
-
Sep 20, 2023
5564

Bitcoin BSC

Bitcoin BSC

$BTCBSC

BSC

BTCBSC
$-
$-
-
Dec 4, 2023
3593

Meme Kombat

Meme Kombat

$MK

ETH

MK
$-
$-
-
Nov 30, 2023
3584

Bitcoin ETF

Bitcoin ETF

$BTCETF

ETH

BTCETF
$-
$-
-
Jan 25, 2024
3458

BitcoinMineTrix

BitcoinMineTrix

$BTCMTX

ETH

BTCMTX
$-
$-
-
Sep 26, 2023
3442